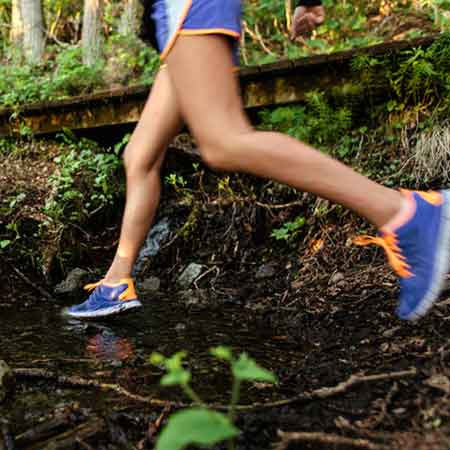 Posted on
---
Most runners would agree that having an event to work towards is a great source of motivation as well as just a really fun and fulfilling way to spend some time.
The longer trail run events can present some dangers to new trail runners so we've put together a list designed for beginners.
Whether you're fairly new to running in general or maybe making the switch to trail running from road running, here's a list of beginner Trail Running Events in Victoria that will give you a great place to start.
You Yangs Trail Running Festival (TrailsPlus Mountain Trail Series)
5km, 15km, 21k, 30km, 42k, 50km, 100km, 100mi

20th July - 21st July 2019, You Yangs Regional Park, 55km south-west of Melbourne.

The 3rd race in the family-friendly TrailsPlus Mountain Trail Series and there's a wide variety of distances on offer.

The course at You Yangs boasts varying terrain, ranging from flat wooded bike trails to open rocky mountain trails. Add to this some awesome views from Flinder's Peak across Port Philip Bay and you've got all the ingredients of a great trail run.

The 5km event is perfect for beginners and every event starts and finishes at the carpark making it really easy for your supporters to cheer you on.

Visit http://www.trailsplus.com.au/you-yangs/ to find out more about this event and the rest of the events in the TrailsPlus series.
Run The Rock (Sole Motive)
30th March 2019, Macedon Ranges, 70km north-west of Melbourne.2km kids run, 5km run/walk, 13.5km, 22km
Located an hour's drive out of Melbourne at Hanging Rock in Woodend, Run The Rock is aimed at runners of all ages and abilities.
The terrain is a mixture of trails, gravel and sealed country roads set amidst rural villages providing plenty to eplore on the day.
If you're a beginner looking for short to medium distance event, Run The Rock would be a great opportunity to make a day of it. You can find out more at
http://events.solemotive.com/run-the-rock-2/macedon-ranges/
Run The Gap
10th May 2019, Halls Gap, Grampians National Park 320km est of Melbourne.6km run/walk, 12km run, 21km run
Run the Gap is located at Halls Gap in the heart of the Grampians and it could be the centre-piece of a great weekend getaway for any adventurous Melbournian.
The 21km event is not recommended for those starting out but the 6km and 12km provide the perfect avenue to get stuck in to the action.
It's definitely worth spending a bit of time in the area too, with heaps of activities including hikes, rock climbing, canoeing and mountain biking.
You can get the full run down of Run the Gap at
http://www.runthegap.com/
BONUS! There's no way we could leave this series out...
The Trail Running Series presented by The North Face
16th June - 5th October, Various locations within 1hr drive from Melbourne.

Short, medium and long courses ranging from 5km to 23km

The team at Rapid Ascent know how to put on an unforgettable race series and with their breath-taking wilderness locations all within a 1hr drive from Melbourne, this series is a must!
Every event they run includes a short, medium and long course making it the perfect way to progress from being a beginner to being a regular mountain goat.
Event distances range from 5km to 23km in picturesque locations including Anglesea and the Dandenong ranges. There are even kids' runs and a night race!
Like the idea of running through valleys lined with tree ferns, weaving through towering gum trees and sweeping past rivers, creeks, beaches and lookouts? Then take your pick of the bunch by heading to TrailRunningSeries.com.au
I know, I know... We missed one out...
Have we forgotten your favourite beginner's trail race in Victoria? Visit our Facebook and let us know!
Quick links
Contact
81-83 Campbell Street, Surry Hills, NSW 2010
support@trailsurvivor.com.au