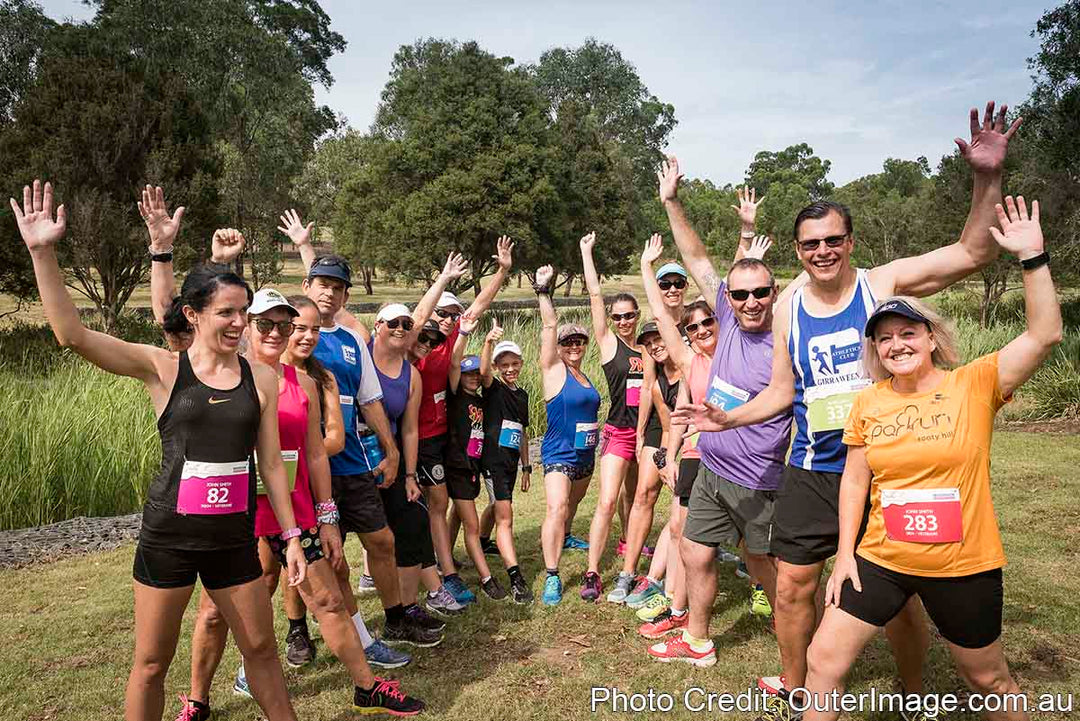 Posted on
---
What's better than spending the day at a running event, doing what you love?
Sharing that experience with your family!
These days, it's not uncommon to find a lot of the popular road events catering for families with kids who are eager to get involved but finding family friendly trail events can be a little more tricky.
We've found three awesome, family friendly, trail events in New South Wales to get you started.
This is not a definitive list and we encourage you to hunt out some more but whether you're looking to run along side your family or just cheer them on in a welcoming and supportive environment, the events below are a great place to begin!
Western Sydney Parklands Trail Run
1.6km Kids Dash, 4km Family Run, 11km, 19km, 35km

22nd June 2019

Western Sydney Parklands, NSW.
Featuring varied terrain including bushland single track and farmland trails, this super-family-friendly trail running event has something for everyone in 'Sydney's Biggest Backyard'.
Founder, Gary Farebrother, says "The course offers some fantastic trail running only a stone's throw from the CBD. There is a great variety of trails which will entertain novice and experienced runners alike. The longer courses offer fantastic views of the CBD and Western Sydney."
While you're there, it's well worth making a day of it and trying out some of the other family activities on offer. You can visit the Lizard Log Markets, let your little ones run wild on the award winning playgrounds or pack a picnic and fire up one of the many parkland BBQ's for a post-run family feast!
Visit https://westernsydneytrailrun.com.au/ for the full details.
Photo Credit: Outer Image
Glow Worm Tunnel Trail Run Weekend
900m Mountain Dash, 6km, 21km, 42km

15th & 16th June 2019

Newnes, Wolgan Valley, NSW.
The Glow Worm Tunnel Trail Running Weekend offers a truly unique running experience and the 6km Ted English Bolt is an ideal opportunity to share one of Australia's most beautiful National Parks with your kids.
But there's much more to this event than just the running. While there is a half marathon and full marathon course for you to get your running fix, there's also a wealth of activities for kids including a scavenger hunt, outdoor movie screen, poster making and outdoor games. 
Bonus tip: The organisers, Mountain Sports, always make awesome merch for their events so be sure to check it out!
For more info on the event, visit https://www.glowwormtrail.com/
Raffertys Coastal Run
1km Kids Run, 12km, 22km, 36km

13th July 2019

Raffertys Resort Lake Macquarie, 35km south-west of Newcastle.

Hosted from Raffertys Resort, this coastal run incorporates a perfect blend of Lake Macquarie, the historic Catherine Hill Bay and the Munmorah State Conservation Area.
This is an extremely family friendly event and the 1km Kids Run, costing just $10, is the perfect introduction to the world of running. The event is for children aged 5 to 12 years, so you can't run with them but you can be their number one fan cheering from the sideline! All runners will receive an official race number plate and finishers medal (to match Mum and Dad's!)
The 12k junior event is for 11 to 16 year olds and fills a bit of a gap in the market for those juniors eager to take on longer distances.
For the full details about this event, visit https://raffertyscoastalrun.com.au/
Photo Credit: Outer Image
BONUS: One extra event that we just had to include!
Riverwood Trail Run
4km Family Fun Run, 15km, 30km, 55km

27th and 28th of July 2019

Riverwood Downs, Monkerai, NSW
A peaceful setting, fresh air, bright stars, abundant wildlife, crackling log fires, friendly staff and relaxed country hospitality. But what really makes this event unique is that you can run with your whole family... including your dog!
A lot of you train with your dogs and now finally your canine running buddy has a chance to step up and take some of that event day glory, they even get a finishers medal!
Everyone is welcome and you don't need a dog to enter. It's worth a look just to explore the tall mountains and cool fresh mountain pools.
For more information visit https://tailrunner.events/ 
I know, I know... We missed one out...
Have we forgotten your favourite family friendly trail race in New South Wales? Visit our Facebook and let us know!
Quick links
Contact
81-83 Campbell Street, Surry Hills, NSW 2010
support@trailsurvivor.com.au